Our Services
Here at Bunny Breaks, we have our own outdoor and indoor accommodation for rabbits and guinea-pigs. Our outdoor accommodation consists of our purpose built 5'x4' runs for rabbits and 4'x2' arks for guinea-pigs. These are outside on lawns to allow your pets to access fresh grass constantly.
The runs and arks we use are purpose built to ensure they are the most suitable accommodation for your pets. They are secure, weather-proof and fox-proof. They are checked regularly throughout the day.
We can also accommodate a small number of rabbits and guinea-pigs indoors in hutches, if preferred. See below for more information.
The only thing that owners have to supply any dry food that your pets have and some fresh greens/vegetables for your pets. Bunny Breaks will supply bedding and any additional fresh greens/vegetables required. We would recommend bringing any toys or 'home comforts' for your pets to remind them of home!
Remember, all rabbits must have been inoculated against Myxomatosis and Viral Haemorrhagic Disease (RVHD1 and RVHD2) at least one month prior to their holiday at Bunny Breaks.
---
Outdoor Runs for Rabbits
We have 5 larger movable runs which we use to house rabbits featuring a 5'x4' run for your pets to exercise and to allow fresh access to grass. Attached is a 1'x4' hutch to allow shelter and night-time accommodation. These are custom built in house to match our exact requirements and are designed to accommodate up to 3 small rabbits or 1 large rabbit.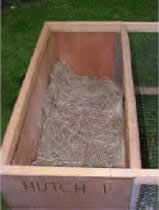 ---
Outdoor Arks for Guinea-pigs
We also have 3 smaller movable arks which we use for guinea-pigs and feature a 3'x2' run with a 1'x2' hutch attached for shelter. These can accommodate up to 3 guinea-pigs each.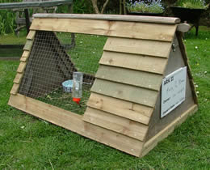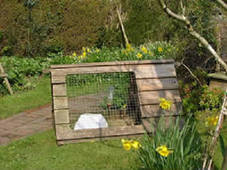 ---
Indoor Accommodation
We can now accommodate a limited number of pets in hutches indoors in our safe, weather-proof shed, if you would prefer them to be inside. Please contact us before booking to check availability.